I wanted a Bluetooth unit that would automatically connect when I turned on the car, but more importantly, one that would mute the radio and use the radio speakers. I found a Rostra Con-Verse unit about $170 shipped from autopartswarehouse, model number is 250-7500-HN2. Took about 2 hours - I went slow because I didn't want to break any of the panel clips.
You probably want to look at the other pics/vids that show how to remove the radio and also how to put tape on the console and a/c switch panel to keep them from getting all scratched up. I like to use clear packing tape instead of masking tape because it isn't as easily cut through by the sharp metal pieces you are going to pull out.
I didn't disconnect the battery, but they recommend you do that.
Here is what the lower left panel of the dash. Note that I had already moved the Stability Control button to the right slot (Honda puts them in the left slot).
You'll need to remove the cover panels above and below the steering column. They are just held in by several PLASTIC clips, so be careful not to break them: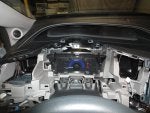 Remove the center console panel where the cigarette lighter is. There are two Phillips screws at the top. Then pull gently from the bottom lip a little (there are 3 clips behind it) then pull downwards to clear the tabs at the top of it, then rotate open like a house door (else you'll just scratch the center console) and unplug the 2 wire connectors behind it: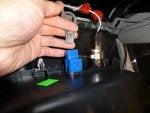 Above the hole where that panel is, are two small bolts (8mm I think) that hold in the bottom of the radio. (The lighter socket and adapter is a cell phone charger I spliced into the lighter wiring so I could have a dedicated phone charger with just the end of the cable sticking out of the dash center console where I sit my phone.)
Then you carfully pull the radio out towards you, and on the back are like connectors. You press the little tab on each to get them out, but the main connector has a very unusual tab, where you press a little tab/nub in the center of the white lock then swing it out about 45 degrees and it releases:
Once the radio is unplugged, you hook up the matching Rostra cable wiring connector to the Honda radio cable and into the radio itself. Run the other end of the Rostra behind and to the left, replace the other radio cable connectors if you removed them, and secure the radio back in.