Joined
·
4,294,967,287 Posts
FIRST ROTM Winner Winn420
May 2012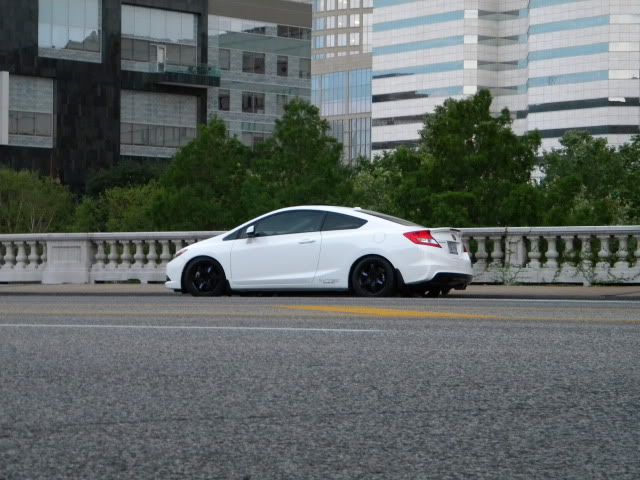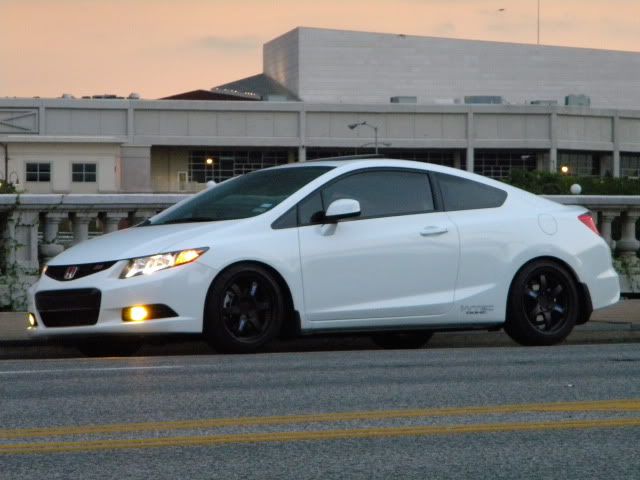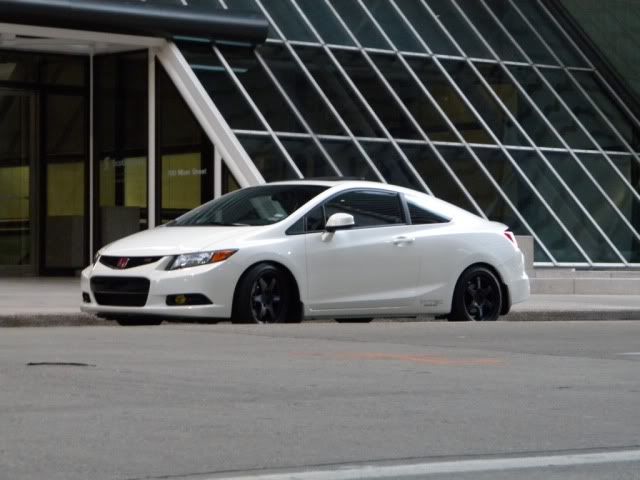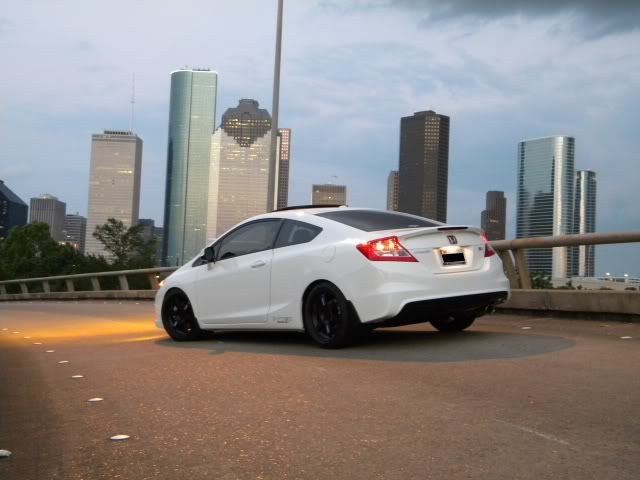 Performance & Cosmetic Mods (the very few I have):
17x7.5 Volk TE37's
Road Magnet Springs
Hondata Reflash
Stock Intake Resonator Deleted
Red JDM Badges
Red Tail Light Vinyl Overlays
Yellow Fog Light Overlays
Cleared Headlights

Future Plans:
Full Race Kit...as soon as Flashpro is available
Upgrdes needed after turbo - Brakes, Clutch, etc.
9th Gen Specific Coilovers

Age & Location:
32 - Houston, TX
June 2012 ROTM Winner
Brown_Bear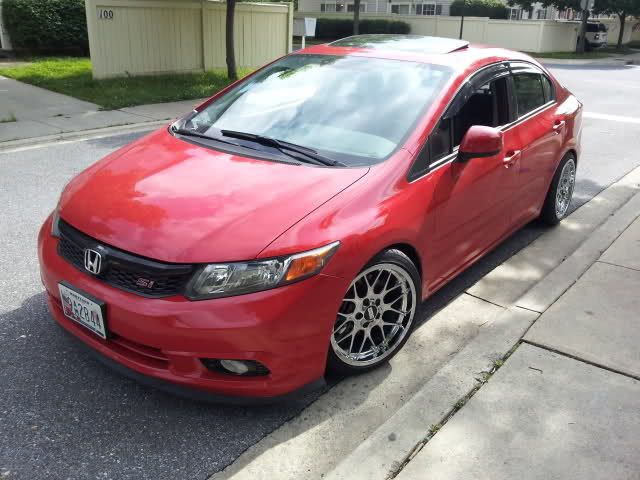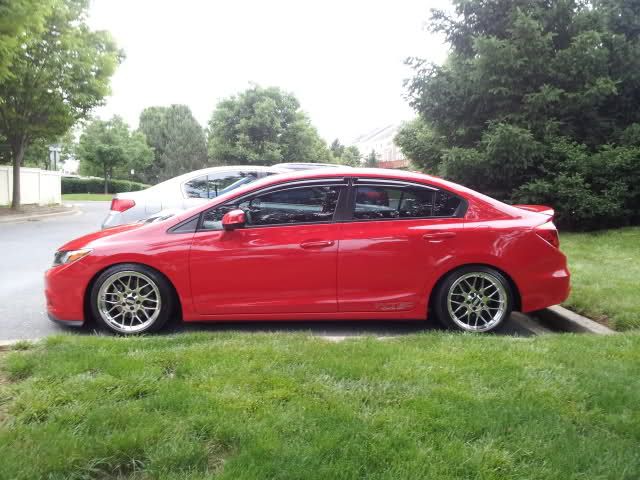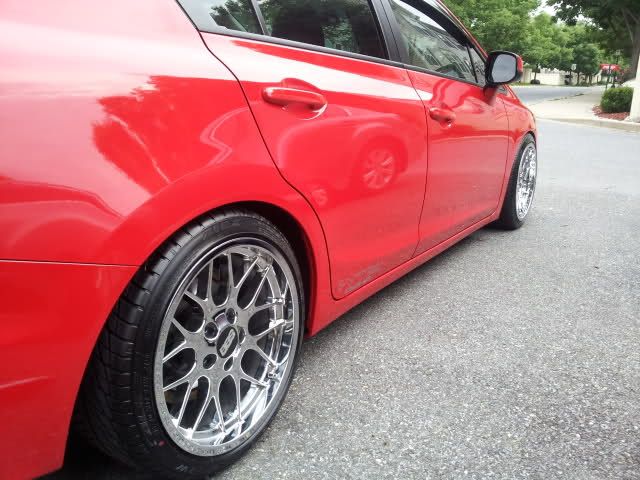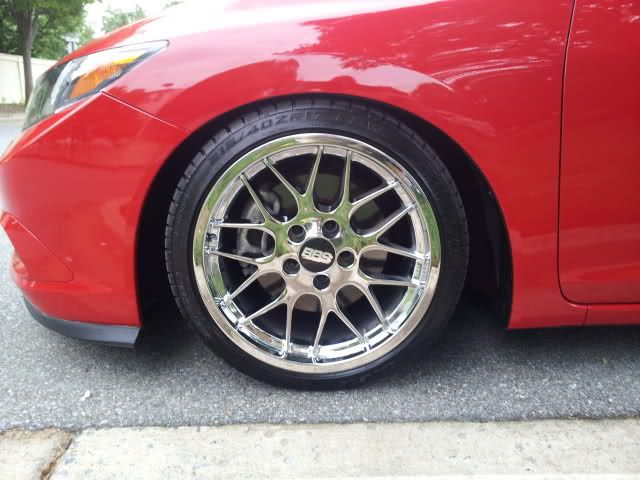 Age 25 from Frederick,MD

Current Mods:

EZLip.com Lip,
GRFXP Fog overlays,
RedShfit Coilovers,
OEM Honda Window Visors,
17x9 +28 BBS RX "Plasma" Finish
wrapped in Falken ZIEX-502 215/40/17,
3M 35% Colorstable tint.


Future mods: Hondata, Full race Exhaust, Intake, HIDs.


July 2012 ROTM Winner

JayDieM.TRAN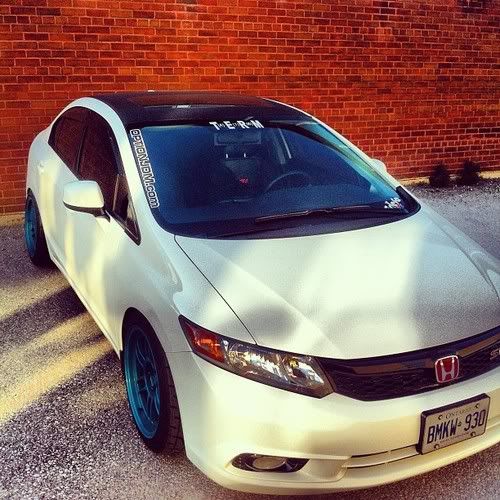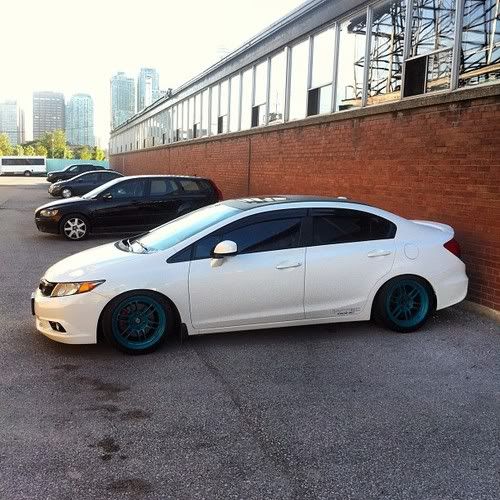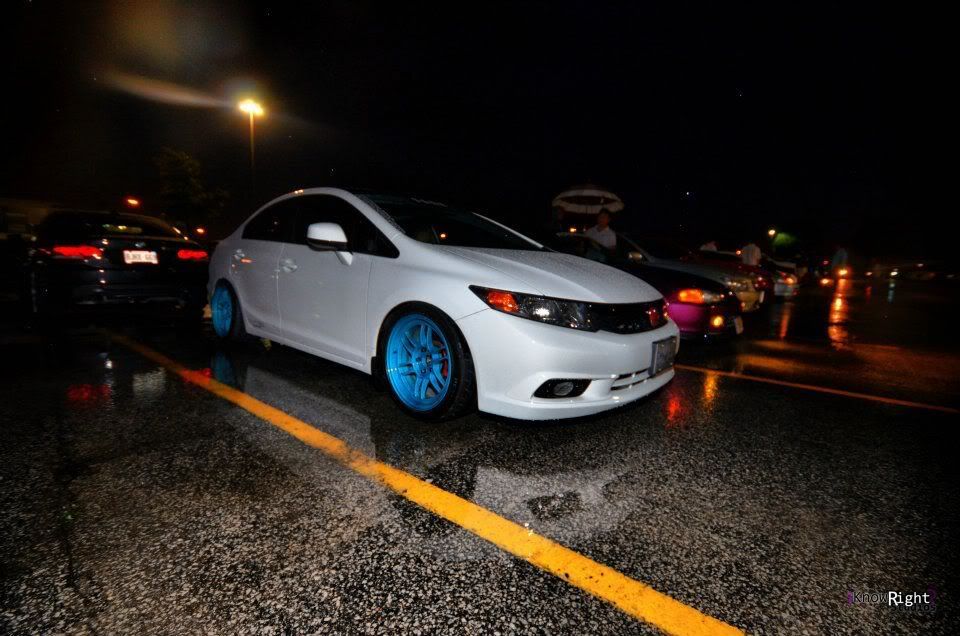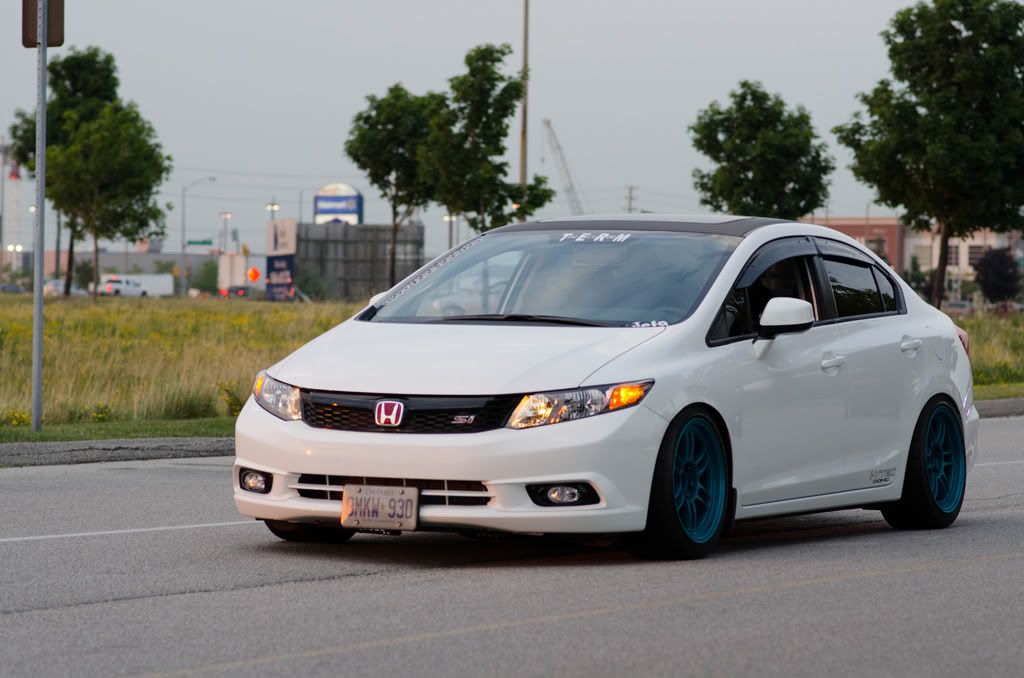 Exterior:
• 25% Window Tints Front & Rear
• 3M Di-NOC CF Vinyl Roof Wrap
• JDM RED "H" Emblems Front & Rear
• OEM 2012 Honda Civic 4-Door Door Visors
• 2012+ Honda Civic 4-Door Megan Racing CF Rear Visor
• Brillante 6000K HID Kits Low Beams (9006)
• Eurolite Yellow Euro Style Bulbs High Beams (9005)
• OLLO 3000K HID Kits Fog Lights (H11)
• Super Bright CREE Chip LED Reverse Light Bulbs
• LED License Plate Light
• Front Fenders Rolled & Pulled, Rear Fenders Rolled
Interior:
•J's Racing RED "H" Steering Wheel Emblem
• Skunk2 Racing Weighted Billet 6 Speed Shift Knob
• SK Performance LED Dome/Map Lights
• SK Performance LED Trunk Light
• OEM Honda Red Ambient Light*
Part:*# 08E10-TR0-100A & LED Strip
Under the hood:
• J's Racing Oil Cap (GOLD)
• Spoon Racing Rad Cap
• 2012+ Honda Civic Si Injen SP Cold Air Intake (POLISHED)
• 2012+ Honda Civic CorSport Battery Tie Down v2 (RED)*
• 2012+ Honda Civic Si P2R Throttle Body Spacer (RED)
• 2012+ Honda Civic Si TWM Performance Shifter Cable Bushings
• J's Racing C304 SUS (70RS) Full Exhaust w/ Custom 3" Piping from down pipe, & secondary cat-delete
Suspension:



• D2 Racing RS Full Coilovers w/ Custom Spring Rates (With Pillow-Ball Upper Mounts)




• Ingalls Front Camber Adjusting Bolts (0" to 3.0" Lowering Range)


• Skunk2 Racing Rear V2 Camber Kit (Gold Anodized)

Wheels/Tires:
*Winter Setup*
Wheel Size/Offset: Front: 17x7 +45ET Offset, Rear: 17x7 +45ET Offset
Wheels: '12 Honda Civic Si OEM
Tire Specs: 215/45R17 (All Around)
• Hankook iPike W409 Tires
• OEM Honda Lug Nuts w/ Locks

*2012 Summer Setup*
Wheel Size/Offset: Front: 17x9 +22ET Offset, Rear: 17x9 +22ET Offset
Wheels: Enkei RPF1 (Originally White, Currently Powder Coated to Custom Candy Teal w/ TB Chrome Sparkles)
Tire Specs: 235/40ZR17 (All Around)
• Dunlop Direzza Sport Z1 Star Spec Tires*
• Project Kics R40 REVO Neo-Chrome Titanium Composite Lug Nuts w/Locks

Future mods:
Secret =D

20 Years Old, Toronto, ONT. Canada


AUGUST 2012 Winner

jnastii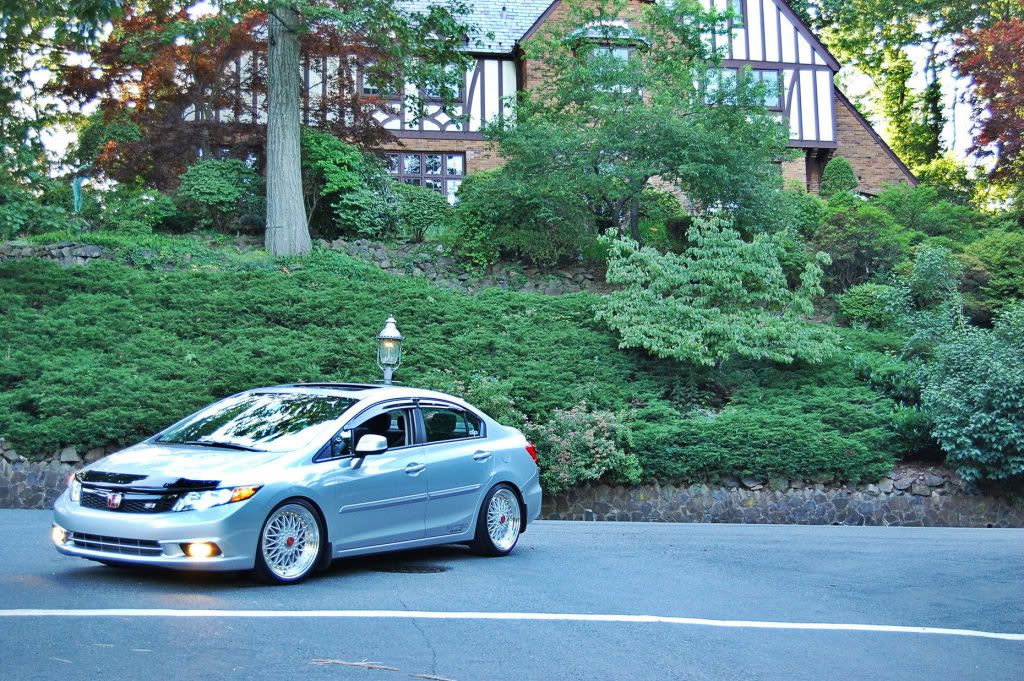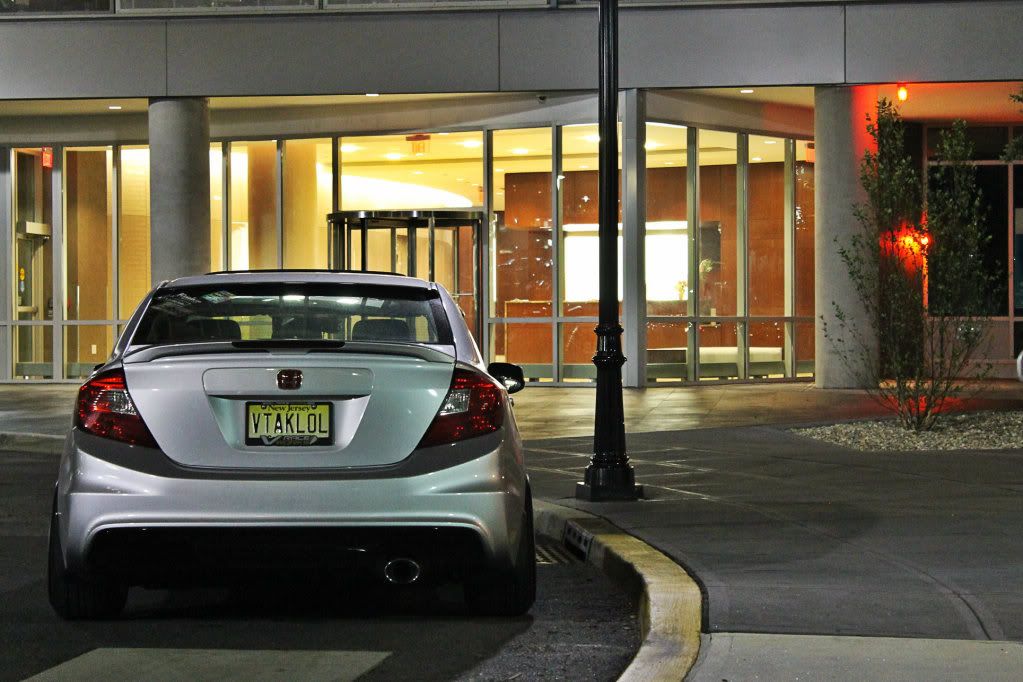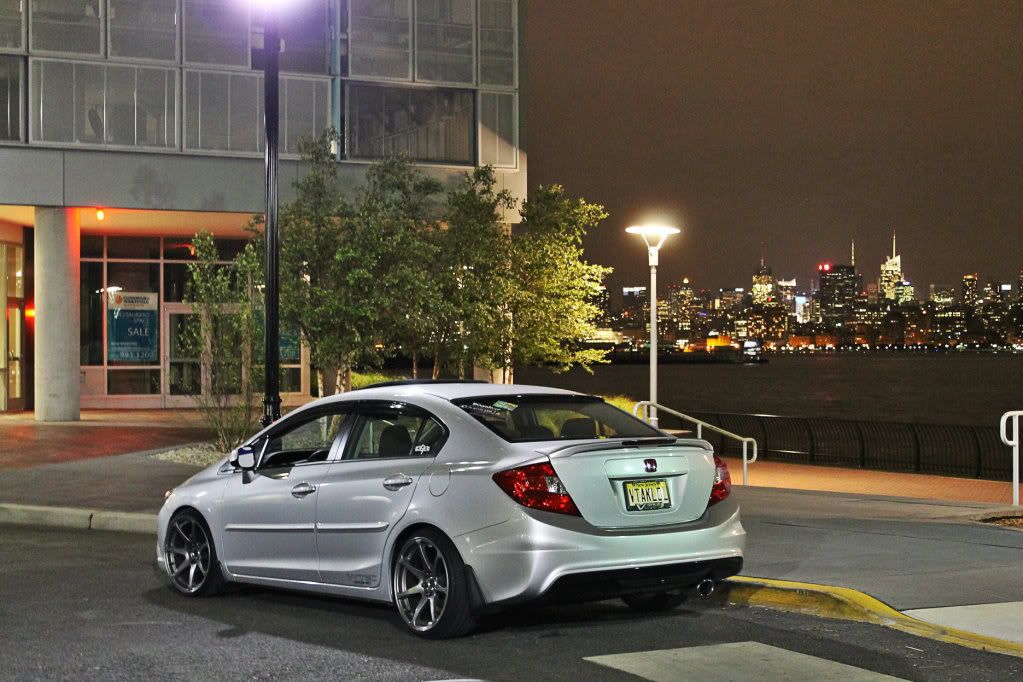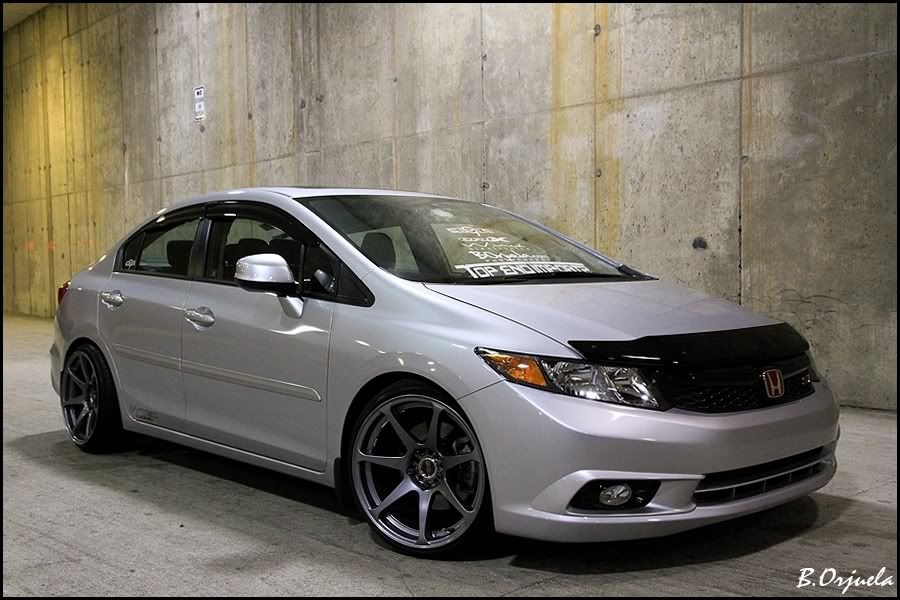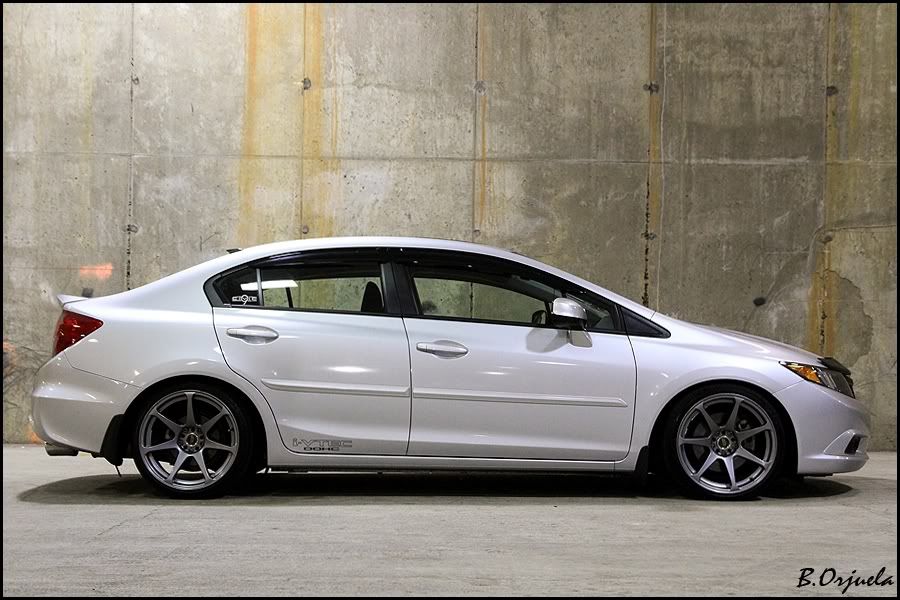 Interior
Red L.E.D Dome Lights
Bright White L.E.D Map Lights
Razo Broadway Mirror
All Season Floor Mats
Trunk Tray
Cargo Net
Ambient Lighting Kit
Exterior
Front and Rear JDM Red "H" Emblems
de-badged rear
White L.E.D License Plate Light
55w HIDs 6000k for Low Beam
55w Yellow DRL/High Beam Bulbs
35w Yellow Fog Light Bulbs
15w White Reverse Light HID
OEM Side Door Molding
OEM Splash Guards
OEM Air Deflector
OEM Door Visor
Megan Racing CF Roof Wing
Altec Show N Go Plate Holder
Red Film Taillight Overlay
AutoTeknic Carbon Fiber splitters
Painted Calipers Color match valve covers
Suspension
Skunk 2 Lowering springs (2' Drop)
Motor
ART Short Ram Intake
Password JDM fender washers
J's Racing Teal Valve Cover
Wheels
Enkei RPF1

Hyper Black
18x9.5 +32
Hankook Ventus
235/40/18
MB Battles

18x9.5 +22
Gunmetal Finish
Zeetex Tires
215/35/18
BBS RS

Silver with polished lip
18x8
Nitto Neo Gens
205/40/18
Enkei Rpf1

Silver plasti dip red
17x9 +22
Fuzion Tires
205/40/18
Project Kics R40 Neo Chrome Lugnuts
Future Mods/Parts On The Way
Hybrid Side Mirrors
JDM Projector Headlights
LX trunk without the wing
Coilovers
FullRace Exhaust
KraftWerk Supercharger
Kpro
September ROTM Winner
JDM..KeLo
http://i.imgur.com/ijY0z.jpg
INTERIOR:
5-panel wink mirror(Custom Sticker Bombed)
Proper + Teal Bubble Knob
Red JDM steering wheel emblem
Red illumination kit(oem)
EXTERIOR:
PWJDM red towhook
Yakima Roof RACK w/ Fairing
Copperhead
Debadged Civic
JDM ebmlems FRONT and REAR
SUSPENISION:
BC RAcing Coilovers
Skunk2 rear camber kit
A-Teach Weapons 17x9 +38
Kumho Ecsat AST 205/45/15
Red Tuner Lugs
E NGINE:
K&N SRI
Greddy EVO3 Catback Exhaust
RV6 Downpipe
Skunk2 tank reservoirs
Mugen oil cap
Skunk2 radiator cap
FUTURE MODS:
Klutch Republik wheels 17x9 +17 3.5'' lip Staggered fitment
go MOAR LOW! on my BC racing Coilovers
Stretched Hankook tires on Klutch Wheels
HFP LIP KIT
STANCED&&Supercharged! CT engineering supercharger when available
Hondata Flash Pro
Congrats to
Arm0ged0n
as October's ROTM Winner


Engine:
Injen Cold Air Intake
Injen Axle Back Exhaust (60mm piping, Resonated Tip, Full Stainless Construction
CT-Engineering Short Shifter
Yospeed Custom Battery Tie Down
RV6 2012+ Civic Si Bellmouth Downpipe
Stance:
XXR 530 17 x 8.25 + 35 offset
Aftermarket Red Lug Nuts
2012 Eibach Sportline Springs
Eibach 24mm Adjustable Front Sway Bar
Eibach 19mm Adjustable Rear Sway Bar
SPC Rear Camber Kit
Red Painted Calipers
Exterior:
Essential Lites Retrofit
Morimoto Mini H1 Projectors
Mini Gatling Gun Shrouds
Shield Painted Red
Reflector Painted Black
Amber Removed
Morimoto 4300k H1 Bulb
Morimoto 9006 Relay Harness
Essential Lites DRL/Bi-Xenon Harness
Yellow Tint Overlay on Foglights
4500 HID Foglights
Plasti Dipped the bottom of the front Bumper
Red JDM Emblems
Windows Tint
OEM Splash Guards
MGN Design Carbon Fiber Hood by AdvanCarbon
Custom License Plates
LED Front Turn Signal Lights
OEM Honda Mugen Style Window Visors
Interior:
All Season Floor Mats
OEM Trunk Tray
Ambient Lighting Kit (Amber Color)
Mugen Carbon Fiber (Red Stripe) Shift Knob
Future Mods:

NOVEMBER ROTM WINNER
SleepingPanda!!!
Will be adding every month for 2012 here to keep em for viewing...at end of year we will be voting between these winners for the 2012 overall winner!!!
​