Discussion Starter
·
#1
·
These were popular on 8th forum so I decided to try them out with my 9th. They run about $36 shipped from Amazon and recieved good reviews with the 8th community. Before someone mentions PIAA brand, I would have gone with those but they aren't as yellow and don't give the housing as cool looking of a tint when the car is off. These bulbs were simple plug n play. You don't need to remove anything to put them in but it would have been easier without the battery.
A quick note that may save you some time. If your car was off with the emergency brake up, the DRL will not turn on when you start the car until you release the brake. I thought my bulbs weren't working and spent an hour pulling fuses, replacing the bulbs etc etc until I figured it out. Was an FML moment.
Enjoy the pics:
1st one is with the car off, the amount of yellow you see will depend on viewing angle.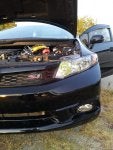 2nd pic is a high beam comparison.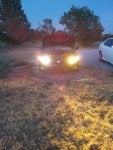 Next is a high beam close up compare.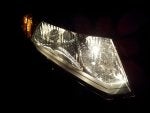 Last is a far pic of the DRL in daytime.